2012 Atlantic Hurricane Season Birdseye Discussion #55
...JULY 18 2012...3:15 AM EDT...
Atlantic tropics remain quiet as we push into the second half of July.

...ATMOSPHERIC FEATURES BIRDSEYE CHART...


This chart is generated based on surface analysis from the National Hurricane Center TAFB at 0000Z, and the 0124Z-released HPC analysis.

In light blue is upper air analysis, with 200 mb wind barbs calculated by GOES satellite imagery showing the upper-level wind direction. Based on the 200 mb wind barbs, blue-dashed lines are locations of upper troughs, blue-zig-zag lines are locations of upper ridges. Blue Ls are locations of upper lows, blue Hs are locations of upper ridges.

In red is surface analysis, with solid lines indicating locations of surface fronts, dashed lines indicating locations of surface troughs, and zig-zag lines indicating surface ridge axes. Ls indicate surface lows, Hs indicate surface highs.

...THERMODYNAMICS BIRDSEYE CHART...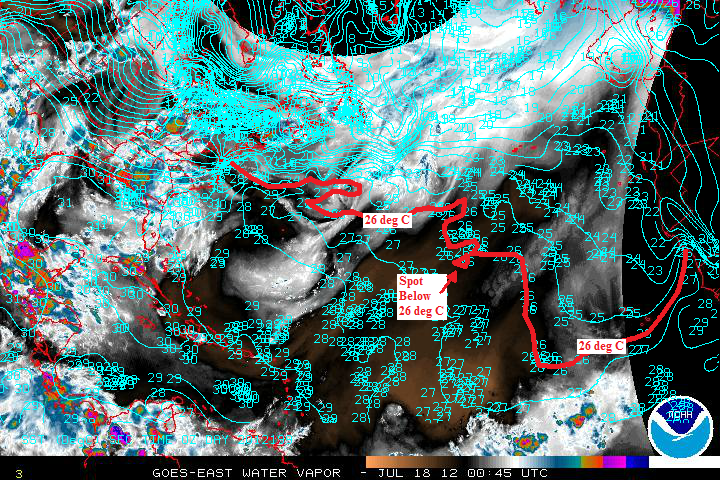 This chart is generated using GOES water vapor satellite imagery. Brown indicates dry air. White, blue, and purple indicates moist air. An increase in moisture indicates slower air parcel lapse rates with elevation and hence an increase toward instability.

Sea-surface temperatures are overlaid with light blue isotherms. The 26 deg C isotherm is highlighted in red. Waters at and south of the 26 deg C isotherm indicate low-level warmth and hence faster environmental lapse rates with elevation (more instability). Waters north of the 26 deg C isotherm indicate slower environmental lapse rates with elevation (less instability).

...MID-LATITUDES DISCUSSION...
P1...Hudson Bay frontal cyclone and its supporting upper trough have split into two cyclones....one upper trough and surface 1006 mb cyclone SW of Greenland...and a second upper trough and surface 1003 mb cyclone just east of Hudson Bay. Cut-off upper vortex over Texas left behind by this system persists...while the Great Lakes upper anticyclone has shifted southwestard into the central US due to cool air advection behind the 1003 mb cyclone. Upper convergence behind the Texas cut-off upper vortex supports a 1014 mb ridge over the SW US.

P2...Surface cyclone south of Greenland and its upper trough are making landfall into western Europe. South fragment of the upper trough E of Bermuda persists...and the 1010 mb frontal depression ENE of Bermuda it supported merged with the surface trough disturbance ESE of Bermuda mentioned in paragraph P6 of the previous discussion. What is left of this surface feature is now a surface trough located well east of Bermuda. The upper trough has also left behind another fragment west of the Azores.

P3...Open Atlantic surface ridge has multiple centers this early morning. Convergence south of the central US upper anticyclone (paragraph P1) supports a 1016 mb center over US Gulf coast. Convergence SE of Bermuda-area upper ridge (paragraph P5) supports a 1021 mb center S of Bermuda. Convergence southwest of the upper trough moving into Europe (paragraph P2) supports a 1030 mb center near the Azores. In conjunction with the south side of the upper ridge in paragraph P6...south side of this surface ridge is helping to waft Africa desert dry air westward across the Atlantic tropics.

...TROPICAL BELT DISCUSSION...
P4...Upper ridge covering the south Caribbean Sea has an anticyclonic center over Panama.

P5...Upper vorticity in the southern Gulf of Mexico persists...and extends to another upper vortex at the FL/GA border. Gulf portion of surface trough has dissipated...while the Florida portion is still supported by divergence between the S Gulf vortex and FL/GA vortex. Bermuda-area upper ridge perists east of all this upper vorticity.

P6...East Atlantic upper ridge persists. Disorganized upper vorticity is still located west of the upper ridge...located toward the E Caribbean Sea. 24 hrs ago...this upper ridge was split in half by inverted upper trough over the Cape Verde Islands retrograding westward. This inverted upper trough is now weaker (located midway between the Cape Verdes and Lesser Antilles)...allowing the two cells of this upper ridge to re-merge into a single upper anticyclone located south of the Azores.

P7...Tropical wave in the central Caribbean is moving toward the west Caribbean and southern Gulf of Mexico...where it will become suppressed by upper vorticity discussed in paragraph P5.

P8...Tropical wave midway between the Cape Verde Islands and Lesser Antilles in the previous discussion is approaching the Lesser Antilles this early morning. Dry air mentioned in paragraph P3 is suppressing this tropical wave.

P9...Tropical wave that was rolling off of Africa in the previous discussion is now over the Cape Verde Islands per current NHC TAFB maps. Inverted upper trough in paragraph P6 is now weaker and too far away to enhance the western upper outflow of this tropical wave...so its storm activity is limited thanks to a non-divergent uniform easterly flow on the south side of the upper ridge in paragraph P6. Despite limited storm activity at this time...the above thermo birdseye chart suggests moisture associated with the tropical wave is pushing out some of the dry air mentioned in paragraph P3.
No reader comments have been posted for this blog entry yet.